Welcome to Cash For Scrap Cars Removal Melbourne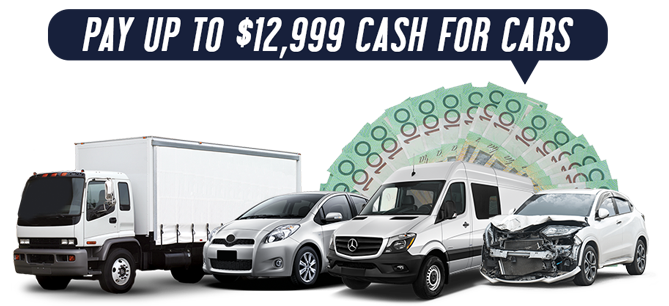 Get up to $12,999 For Sell Any Car For Cash
Cash for Scrap Cars Removals simply removes vehicles for cash and is located in Melbourne having its branches in Thomastown, Dandenong, and Ringwood. You can sell your car, Utes, and 4wd which are old, scraped, damaged, unwanted, junk, or wrecked cars from any area in Melbourne. We accept scrap cars and are known as car buyers of any condition, make, and model. Whether you have a Japanese, European, Korean, or broken-down car, we pay instant cash for cars Melbourne.
We provide same-day pickup and instant money on just one call. With a car removal team of professionals who have extensive experience in car valuations and cash payments, we are able to provide car owners with a free over-the-call quote or online quote. Simply give us a call on 0413 551 190 or fill out our online quote form and one of our friendly staff will get back to you in less than 5 mins for a free car takeaway service.
Instant Cash for Cars up to $12,999 For Your Scrap & Damaged Cars

Being the courteous and fast cash for Scrap cars removal company, we are proud to pay the top scrap cars cash. We give cash for cars Melbourne within a few hours after you reach us! Is it amazing? We'll pay for the vehicle on the spot and will provide free towing just after a little paperwork. We do it swiftly for you.
Cash for car removals is realistic and know that generally people buy their cars and drive them until the sad day when the car is no longer useful to them. Therefore, we buy cars in nearly every condition either it is junk, scrap, or damaged car. Give us a call right now to know the variety of cars we buy and get your car removed instantly. We give exactly what your vehicle deserves. Areas Covered for free car removal are
Do you want to get rid of your old car in Melbourne?
Are you looking to sell cars for cash Melbourne fast with quick instant cash in your hands?
Do your homework before selecting scrap car removal companies. Because your used car still has a good value. By choosing the right company that specializes in old and junk vehicles, you can get the best cash for scrap cars Melbourne. However, if you come across inappropriate scrap metal buyers who only buy late models like 2015 and above, you might lose some money. you can Check out other auto websites so you can get a better idea of the sales rate of used cars and then you'll ultimately come here at Melbourne car wreckers.
By removing the middle man now, it is great news for the people of Melbourne that they can get full value for their old accident-damaged cars, and battery-dead cars by using the services of "Cash for Cars Melbourne"
Why Choose Free Car Removals Service?
We assure you of the best deals in the industry. With more than 15 years of experience in the same field, we know how to satisfy our clients by offering quality & free car removal services. Just give us a call and we'll make you a cash offer for the car lying in your garage.
Whether you are looking to upgrade your car or want to sell it quickly or it has not passed the RWC. No matter what is the reason for selling your car, we are ready to give cars services and top cash for car Melbourne.
At Cash for Car Removal Melbourne, we have three main sections where we buy vehicles of any type, condition, make, and model.
Cash for trucks Melbourne
Cash for vans, and other vehicles
Used cars for cash Melbourne
Running or not, registered or not
Damaged, written off, and scrap vehicle
With over a decade of experience in the Melbourne cash for cars industry, we have spread our branches across Melbourne and our experience and knowledge packed staff is constantly on the road providing our customers with the highest cash quote across Melbourne so if you are looking for:
Cash for cars Werribee
Cash for Cars Pakenham
Cash for cars Melton
Cash for SUVs makes and models
We have got your area covered for vehicle removal. Our representative can come to you on the same day and that's free of any charge to our clients.
People are getting numerous advantages from our Cash for Cars Service. First of all, vehicle owners avoid the hassle of selling the car privately as there are a lot of things that need to be done as manual car sellers. On one hand, you have to provide the car buyer with a valid RWC certificate which can cost too much money. On the other hand, you have to be available for many buyers to come and inspect your vehicle.
Free Car Removal Services in Melbourne
With free car removal Melbourne, you are not required to give us a valid RWC as we are a licensed motor vehicle trader. We are exempt from RWC when we are buying used and junk cars with registration. No one in Melbourne can compete with us. You can find out more about it by visiting the VicRoads website or via cash for cars services customer reviews.
A company that is registered and licensed is the best choice for car sellers. Such companies dismantle scrap vehicles in an eco-friendly process. Their process is totally free of every kind of pollution because they usually have a wide scrap yard away from living areas. So be careful while selecting Car Removals Melbourne.
As a responsible car seller, always choose a company that accomplishes car wrecking according to Australian standards so that it keeps the environment safe and clean. By doing so, you are contributing your part to the environment.
Sell Your Car Today – Old Car Buyers Melbourne

If you want to sell your old vehicle quickly and looking for someone who can pay you cash on the same day, you have just come to the right cash for the old vehicle company. We buy all types of old vehicles from sedans to 4wds to trucks or jeeps. We are specialized in:
Cash for old & junk cars
Cash for old trucks, vans, utes, and or any other vehicle
Free car removals
We pay cash up to $12,999 for old vehicle
Our main aim is to pay the best cash for old cars. So, we want our callers to turn into our customers. We are achieving this goal on a daily basis almost 98% because our callers end up selling their old to us. That's because our friendly staff is just like a family. They are always available to talk to you in a cool way and pay cash for old cars on a regular basis.
We take our searchers seriously and their feedback means a lot to us. That is why we have a special team who follows up with our Cash for Cars Melbourne VIC customers at the end of every day. Just call to find out what your car is worth!
With our free old car removal service, we do not charge any towing fee or removal fee when you sell your old, junk, scrap, broken or non-running car. As vehicle owners, you do not need to pay us for the removal of your car. Because we have our own tow trucks and we do not subcontract our cash for old cars service in Melbourne with third parties.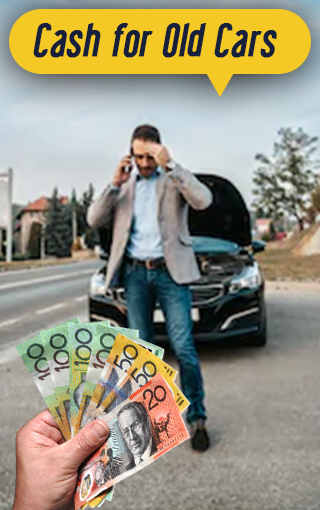 Cash For Used Cars Melbourne
Getting rid of an used car or jeep has become much easier with our instant cash for used cars Melbourne service. If you are looking to sell your used car in Melbourne or searching for reliable cash for cars company, you have come to the right unwanted car removal company. Give your vehicle details, get the quote and we'll come for free towing service.
We buy and pay cash for all types of used cars, unwanted cars, trucks, vans, and 4wds. No matter in which condition, we come to your place to value your unwanted car, no matter where you live in Melbourne and that's free of any cost to you 100% obligation-free quote. We pay up to $12,999 for any unwanted vehicle.
Whether your car is too old or even damaged and written off
Engine jammed or broken down on the road
Accidental damage or mechanical issues
If you have simply upgraded your old car to a newer model
We buy all kinds of unwanted vehicles, with and without registration and RWC.
Melbourne Cash For Scrap Cars
Did you know that every day over 1000 vehicles including cars, trucks, etc are getting scrapped in Victoria? Imagine if those junk cars are not scrapped in an environmentally/eco-friendly way, what impact could it have on our environment?
By choosing the right cash for car company you are contributing your part to the environment. We are fully licensed by the EPA (Environment Protection Authority) and our business premises are all approved by the local council to carry scrap car recycling processes. Cash 4 Junk Cars Melbourne All Rights Reserved.
If you have got a scrap car or other vehicle we have got the cash ready for you, we provide:
Cash for old scrap cars and sedan
Cash for old scrap truck, van, and 4x4s
Unbeatable prices paid the same day up to $12,999
Cash For Damaged Cars Melbourne
Is your car involved in an accident or is damaged? You can sell your damaged car, van, Ute and 4wds to us. We pay top cash for cars up to $12,999.
Cash for Damaged Vehicles Sedans and 4wds
Same Day Payment and Free Quotes over the call
Getting the best cash for damaged cars in Melbourne is what we are aiming for. We want our callers to turn into our clients and we are achieving our goal on daily basis. Almost 98% of our callers end up selling their damaged vehicles to us. That's because of our friendly telephone staff just like a family and it is really easy to deal with them. We end up leaving a good price or amount in your pocket. Our car appraisers are experienced in all makes and conditions of cars.
Best Cash For Cars Melbourne Online Quote – Call Us
Here are three easy steps to avail of our hassle-free friendly and professional service. Give us a phone call to get the free quote or fill the form available on the web page, provide your email and some basic car details, then we'll email you the quote of the cash offer and will come to your place to remove your unwanted vehicle by paying the agreed price. We offer Instant cash payment on the spot or Payments Effective May 30th, 2018 Victoria Government Has Banned Paying Cash For Scrap Metal And Cars. Payment Can Be Made Via Electronic Transfer or by Cheque following the laws and regulations to avoid any hassle. All rights reserved.